We are keeping your health in mind


We are following recommended protocols including hand sanitizer upon entering, a reception area and front desk that allows for distancing, and thorough sanitizing of treatment rooms between patients. As long as you are free of virus symptoms and have no known exposure, we'd be happy to see you.
As of July 1st 2020 per the Oregon Health Authority, we are requiring face coverings to be worn while in our clinic. Thank you for your cooperation as we navigate this challenging time.
---
Eugene Chiropractor
Thank you for visiting the website of Eugene Chiropractors,
Dr. Richard Keim, Dr. Sharell Tracy, and Dr. Megan Wagner.
Our chiropractors strive for excellence through superior patient treatment, education and satisfaction.
We all know living with pain every day diminishes quality of life. What many don't know is that they do not have to live with the pain. Pain relief is one of the first results of the chiropractic adjustment, the next is better movement and function. Everyone deserves to know if they could feel better, could move more freely and function normally as a result of having their spine and/or extremities adjusted. We see miracles every day; why not be one of them?
Here is what we have to offer you:
A friendly voice when you call
A warm greeting when you arrive
Front office staff who are personable and real
Compassion and encouragement
An appointment when you need it. The same day if possible
Respect
Doctors who listen
An experience that will make you wish you hadn't waited so long
Great value at an equitable price
We have three chiropractors, a physical therapist, several massage therapists, and a staff member formerly associated with LCC and the U of O, as a Certified Athletic Trainer. All under one roof in a warm, spa like environment. We work closely together to provide you with what you need for healing your body pains and injuries. Each provider has his/her own expertise, trained and certified in different techniques and modalities to provide comprehensive care. We know everyone doesn't respond to the same treatment and our many years of experience and wide array of training helps us find the right answers to your individual problem.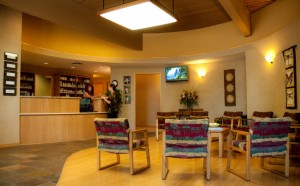 Our licensed and certified doctors at Tracy and Keim Chiropractic are dedicated to providing traditional and advanced chiropractic health care to our patients. Our massage therapists have advanced therapeutic massage training and provide wonderful adjunctive care to the chiropractic treatment as well as stand alone massage for a number of clients.
Our patients tell us our thoroughness sets us apart from other doctors. We think you deserve to have your adjustments hold, so we check the supporting muscles for strength and function.
When the muscles are weak, we don't assume it's a lack of exercise. Instead, we determine why a muscle isn't functioning and how we can correct it. There are a number of things that cause a muscle to "turn off", and its our skill at determining this that will make your experience with us rewarding. For instance, to strengthen muscles in your low back and pelvis, we may have to adjust your foot, adjust your lumbar spine, give you vitamin E, or do manual treatment of the muscle itself to release fascia and stimulate the spindle cells within the muscle. In other situations, one adjustment turns all the muscles back on, corrects the subluxation and takes the pain away. Each person is unique and you will be treated with this in mind.
X-ray is the picture that's worth a thousand words. We take x-rays of our patients when the need arises. X-rays are a diagnostic tool to:
Look for degeneration of the spine
See if it is safe to adjust you
See how to fix your hidden problems
Tracy and Keim Chiropractic Clinic has been serving the Eugene-Springfield area for over 40 years.
We have committed years to building a good reputation in our community, and continue to enjoy a steady flow of referrals from our satisfied patients, medical doctors, fellow chiropractors, physical therapists, and massage therapists. We are strong on ethics, service, and referring out to appropriate medical care whenever the need arises. It is important to us to be able to accommodate our patients on the day they need care from us. We provide treatment for all ages, from infants to seniors, and have a broad range of services.
We participate in an educational program for pharmacy students, where they rotate through various local health care providers as a part of their curriculum. This allows the young, incoming pharmacists to have a better perspective and broader knowledge of available treatment beyond medication.
We support the head injury and autistic community, both financially and with specialized treatment. We also support our chiropractic associations.
Between all three doctors, they are certified in Active Release Technique, Neuromodulation Technique, NeuroEmotional Technique, and Trigenics, have extensive training in Applied Kinesiology, and numerous other adjustive techniques.